saturday - May 12, 2018

Westerner Park, Red Deer

Agricentre

Family Friendly

10:00 am - 4:00 pm
Westerner Park has strong agriculture roots as one of the largest agricultural societies in Alberta and what better way to showcase our agriculture then through a celebration of food. Westerner Park Urban Farm Festival focuses on education, encouraging and inspiring people to be knowledgeable about food production and preservation. Through an interactive and experiential environment,
Westerner Park creates an Urban Farm experience on our property.
---
Urban Farm Festival & Planting:
Westerner Park Urban Farm Festival, presented by Peavey Mart, is going to have a full day of activities, workshops and demonstrations. The community will learn what they can grow in their own backyard, and so much more! The Festival will be an environment where local producers can showcase their products and share their agricultural story. Guests will enjoy a petting zoo, face painting, local vendors, and local producers.
Let's come together, learn to grow local food and connect with the community at Westerner Park Urban Farm Festival!
---
Key Note Speaker:
Shannon and Danny Ruzicka- Pioneer Principles In The Land Of The Entitled
12:30 pm
Shannon Ruzicka, along with her husband Danny, own and operate Nature's Green Acres, a small farm near Viking Alberta. There they raise grass fed nouveau beef, pastured lamb and bush raised heritage pork, which they direct market to individuals and RGE RD restaurant in Edmonton Alberta. On top of the physical farming, Shannon takes care of the marketing, customer service and troubleshooting of Nature's Green Acres all the while homeschooling their three children.
In 2016 the Ruzicka's successfully completed a year long quest to grow and raise all their food. Shannon is in the process of writing a book about their year.Shannon has had the pleasure of speaking at numerous food and farming conferences over the years and looks forward to many more!
Could we do it? This question plagued me as I read Great Grandpa's biography. We've all heard the stories of the pioneers and their hardships, but something awakens inside when it's your flesh and blood fighting to survive in the vast wilderness of this unforgiving land. Could we survive? Could we even just feed ourselves in this day and age? We're farmers, we have running water, electricity, vehicles and all the other modern conveniences they couldn't of even imagined! We've been growing a garden, raising pigs, chickens and beef for years, but could we actually feed ourselves for a year? We did it. Let us share with you all of our ups and downs, successes and failures and the life changing perspective such a challenge inevitably brings.
---
Workshops:
Butter Making Presented by Butter Babes
10:30 am
$35
Join me for a fun workshop on making butter where you will learn about what can be made just by using 1 Liter of cream and which household items to use in order to make your own creamy fresh butter! You will be making your own flavorful Compound Butter by selecting fresh herbs and spices from the "butter bar". All ingredients are included.
Veggie Container Garden Presented by TJ's Market
12:30 pm
$30
Learn how to grow a bountiful garden in a container. Walk away with your mini garden patch ready to go! Choose from a tomato combo or a pepper combo and add chives, basil, thyme, cilantro or oregano.
Hanging Basket Presented by TJ's Market
10:30 am
$30
Learn how to plant and grow a beautiful hanging basket. Choose any 4 from Petunias,Lobelia,Pansy, Calibrachoa, Bacopa and Dianthus.
Soil Health & Garden Planning Presented by TJ's Market
2:30 pm
Free
We want to get you started thinking about how to plan your garden, and taking the first important step of getting the beds ready for planting. Soil health plays a big factor in the success of your garden. In this workshop you will learn how soil compaction, disturbing soil hardpan, living organisms in the soil, weed controls, composting, fertilizers, crop rotation, and raised beds affects your growing potential.
Canning Presented by Peavey Mart
12:30 pm and 2:30 pm
$51
Just like Grandma and Grandpa used to do. Come learn a traditional way to make pickles and jam from the fruit and vegetables in your own garden. This interactive hands on session will guide you through making your own pickles and jam, explain the basics, tools needed, food safety and more.
Urban Bees Presented by Peavey Mart
10,30 am and 12:30 pm
Free
Many are becoming aware of the importance of pollinators.  While there are a variety of pollinators, this introductory presentation will focus on honeybees. Some municipalities in Western Canada are allowing small scale apiaries. Come hear from a hobbyist beekeeper to provide an introduction to honey bee basics including life cycles, identification, good husbandry,  necessary equipment, honey extraction & more.
Urban Hens Presented by Peavey Mart
10:30 am and 12:30 pm
Free
Have you ever wondered what owning backyard chickens would be like? Whether you're in the city, acreage or even a farm. Red Deer is one of the many cities in Alberta that allow hens in city limits, come hear from chicken owners & experts. This session will cover; A guide to getting started, breed selection, coop set up, illness and disease, good husbandry, bio-security and more.
Flower Arrangement  Presented by Botanica Flora
10:30 am
$75
Floral design workshop! Everlasting Spring Floral Arrangement. Everlasting Spring Floral Arrangement. A warm wood container provides a base for this original everlasting floral arrangement. Elements are all natural, both dried and preserved for quality and permanence. No silks are included. A variety of shades in cream, green and wood-tones accentuate every decor, for all seasons. You're sure to find inspiration in the multi textural lines and carefully chosen materials incorporated. Durable preserved glycerine treated products remain pliable and retain their color. They include beautiful hydrangeas, lemon leaf greenery, cork, eucalyptus seedpods, coco, orchid pods, and more.You'll enjoy two hours to complete your beautiful everlasting arrangement with all materials included and step-by-step instructions, accommodating all levels of experience.
     
Succulent Driftwood Planter Presented by Botanica Flora
2:30 pm
$95
Succulent Driftwood Planter Join in for a fun, on trend succulent workshop! The rectangular log planter provides a perfect space for arranging a natural looking, unique design. With high-quality everlasting succulents, various mosses for colour and texture and bird's nest you'll achieve a whimsical affect, which extends its use for all seasons.
Extending The Gardening Season In Central Alberta Presented by Linda Tomlinson
10:30am
Free
Do you want to get started gardening as early in the spring as possible? Would you like to be able to extend your growing season here in Central Alberta? Learn different methods of extending the season for vegetable gardens including: mulches, fences, early plantings, hoops, plastics and polyspun cloth, and how early can you plant.
Dividing perennials to keep them healthy Presented by Linda Tomlinson
2:30 pm
Free
Learn when and how to divide your perennials to keep them healthy and share with friends. In this workshop you will learn how to divide and propagate and when is the best time. As well as how to divide perennials based on their root system. You will also learn about tap roots, tubers, creeping roots and ground covers.
Native Bees In Your Habitat  Presented by Charity Briere
2:30 pm
$30
When people hear "Save The Bees" they usually think of honey bees, however there are 400 species of native bees that live in North America that need help to. Red Deer is home to 250 species of native bees, and by providing them with food and habitat, we can help ensure that they continue to thrive. This workshop will cover some basic bee biology, diversity, lifecycle. You will learn how you can support them in your yard and finish up by building your own pollinator hotel to take home with you.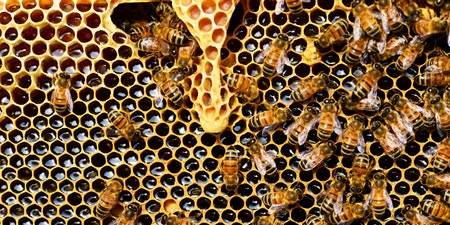 Sponsored by: