OTHER STORIES
March 27, 2023
The Thank You Canada Tour
June 5, 2018
Canadian figure skating superstars pay tribute to home country with "The Thank You Canada Tour" this fall 2018 and will be visiting Red Deer on October 18 in the ENMAX Centrium at Westerner Park. 
Tessa Virtue & Scott Moir along with Patrick Chan, Kaetlyn Osmond, Elvis Stojko, Meagan Duhamel & Eric Radford, and more will bring their new figure skating show to 30 Canadian cities coast-to-coast.
Red Deer, AB – Canada has produced the most talented figure skaters in the history of the sport with household names like Virtue, Moir, Chan, Osmond, Stojko and more who have reached the pinnacle of the sport in the Canadian Nationals, World Titles and Olympic Games. As a 'thank you' to their home country, these Canadian greats will embark on The Thank You Canada Tour, presented by Round Room this fall. Tickets will go on sale starting at 10:00 am on June 8, 2018 at thethankyoucanadatour.ca or though TicketsAlberta.com.
Launching October 5, 2018 in Abbotsford, BC, the cross-country tour will play in 30 cities, wrapping up in St. John's, NL. Family, friends and long-time fans will have the special opportunity to see some of their favourite performances that put these Canadian darlings on the top of podiums around the world.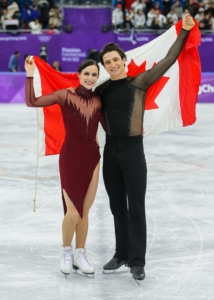 Tessa Virtue & Scott Moir
Photo credit: Greg Kolz
The 2018 tour cast features five-time Olympic Medalists, three-time World Champions and eight-time National Champions Tessa Virtue & Scott Moir; three-time Olympic Medalist, three-time World Champion, and ten-time National Champion Patrick Chan; three-time Olympic Medalist, four-time World Medalist, seven-time National Champions Meagan Duhamel & Eric Radford; three-time Olympic Medalist, three-time National Champion, World Champion Kaetlyn Osmond; and two-time Olympic Medalist, three-time World Champion, and seven-time National Champion Elvis Stojko.
"After a career that has taken us to many corners of the world, it's thrilling to return to Canada and celebrate with those who have supported us every step of the way. Visiting cities that don't ordinarily get skating productions is particularly special to us, as we know firsthand how important grassroots programs are in small towns – it's how we got our start!  Our hope is to inspire a new generation to pursue their goals fearlessly," says Tessa Virtue.
 "We love Canada, we love Canadians and we love what this country represents!  It's the perfect time in our career to say thank you and acknowledge the unwavering and unconditional support we've received over the years," adds Scott Moir.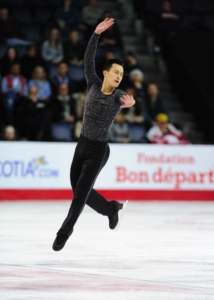 Patrick Chan
Photo credit: Skate Canada
"This is a special group and we're not ready for this ride to end. We want to keep performing and share our craft and our love of skating with all Canadians," says Patrick Chan.
 For a complete list of tour dates and to purchase tickets, please visit thethankyoucanadatour.ca.
Tour presented by: Round Room
Tour Media Sponsor: Bell Media
Tour Travel Partner: Air Canada
About Round Room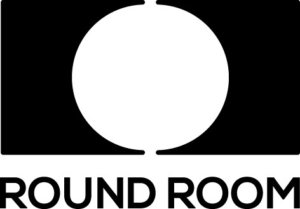 Round Room Live, LLC is a live entertainment company that specializes in the production and promotion of live arena shows, concert tours, theatrical performances and touring exhibitions.
Over the last 10 years, the senior management of Round Room has served as a Tour Producer for Bodies: The Exhibition, Executive Producer of Fuerza Bruta, Tour Promoter for An Evening with Oprah Winfrey, An Evening with Al Pacino, Rock of Ages, The Marvel Experience, Jurassic World: The Exhibition, and most recently, Executive Producer of The Rolling Stones Exhibitionism, all while producing and promoting some of the biggest kids tours to date, including Yo Gabba Gabba Live, Alvin and The Chipmunks Live and PJ Masks Live.
Website: thethankyoucanadatour.ca
Instagram: @thethankyoucanadatour
Twitter: @thethankyoutour
Facebook: /TheThankYouCanadaTour
Hashtag: #thethankyoucanadatour
For more information about The Thank You Canada Tour, hi-res image or interview requests, please contact:
Lexi Stratis, rock-it promotions, inc. at lexi@rockitpromo.com or 416.656.0707 ext. 123
Daliah Marsons, rock-it promotions, inc. at daliah@rockitpromo.com or 416.656.0707 ext. 109
Local Media Contact:
Shannon Penny, Marketing & Communications Manager, Westerner Park
E spenny@westernerpark.ca
P 403.309.0207